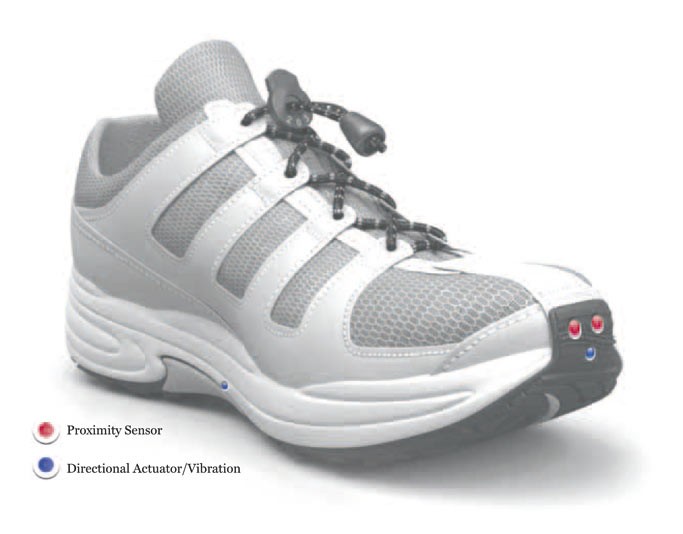 Haptic shoes invented by Indian Anirudh Sharma, an IT Engineer from Rajasthan Technical University. The system is called Le Chal, which is Hindi for "Take Me There." It is intended primarily to assist blind people in finding their way to specific geographical locations, although it also helps them avoid walking into things on their way there.
On http://www.technologyreview.in/computing/38306/ and http://www.technologyreview.in/article/38509/ and http://www.medianama.com/2011/11/223-le-chal-android-powered-shoes-for-visually-impaired/ more details about the Le Chal DIY kit
Ingredients
1 Smart phone with compass enabled GPS to pull location data from satellites
2 Shoes with soles of the defined dimensions to house the components
1 Bluetooth Arduino Lilypad to sync devices
4 Mini vibrational motors to inform the user about the directions
1 Proximity sensor
Instructions
No detailed instructions available yet. Here http://www.technologyreview.in/computing/38306/ we read that Sharma is planning to release the code of Le Chal Android application and schematics to public through Arduino community channel. He is also planning to create a Do-It-Yourself (DIY) guide through an editable Wikipedia where users can participate and help him create better version of the technology.
http://www.iot-maker.nl/?p=241