On Saturday 16th and Sunday 17th I attended the OpenIoT Assembly Conference in London (http://openiotassembly.com). There was a mixed group of supernerdy programmers, IoT entrepeneurs, electronica specialists, venture capitalists, startup gurus, and 2 geospatial specialists ( Christine Perey of OGC and myself ;-)) talking about IoT and open (sensor) data. Everybody brought his or her specific expertise to the table and that lead to really interesting discussions on technology, philosophy, privacy, business models, etc.
The conference was held at Google campus, 5 Bonhill St EC2A London. The campus is close to the London financial district. It's located in a part of an old industrial building.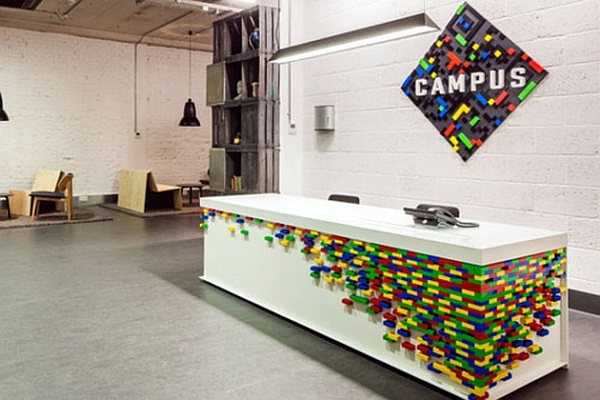 Primary goals of the conference were:
Meet and discuss with thought leaders, practitioners and government bodies around the growing field of "Internet of Things"
Contribute to the Open Internet of Things Document discussion
Participate in workshops where the community will share their concerns and vision for the Open Internet of Things
Create & endorse the finalized Open Internet of Things Document at & after the event
My personal goals were to meet other people who think and dream about Internet of Things and creating awareness on the role of Geospatial technology in the Internet of Things.
Saturday 16th june
In the morning I atttended the session about The City. In the afternoon the session about Tools (flipped in the scedule).
There were interesting discussion about who owns data observed and measured by things. Observer versus the Subject of observation. This is an old problem, someone takes a picture from you, who is the owner of the picture? The person who owns the camera that takes the picture or the person whose picture is taken (portrait rights…). Another example, the government installs sensors and camera's in the city, observing your geluid, beeld, positie, and in the future maybe your gewicht, volume, clothing choice, etc.). What are the rights of the observed people? If you demand that you don't want to be monitored, it's technically almost impossible to filter you out from the observations. Or the government puts a dome camera in front of your house (public space). Now the operators can see when you leave the house (face detection…). They can even zoom in through your window (private space)… This will happen because it's technically possible. You se these kind of disscussions already with Google Streetview images. People demand to be blurred. Sometimes blurring of faces is sufficient, in other countries streetview is forbidden because of privacy concerns. Culture and laws differ per country on these matters.
There were also discussions on the definition of a "thing". Things can be nanoscale or mesoscale (lamp, car, house) or megascale (ship, oil rig…). Largee things consist of many (vele) individual parts (also things) which are connected or part of the larger thing. A pipeline (thing) is made of pipe parts (things). Every thing takes it's own position in space and time. The pipeline part is part of the pipeline and inherits basically the features of the pipeline. A house (thing) consists of stones, a stone can contain a sensor, etc. The lead to all kinds of interesting philosophical discussions.
Alle things can be made "smart" in the sense that they can be provided with sensors and/or actuators and then connected to the internet. With the current developments in nanotechnology, miniaturisation will lead to the situation that sensors and actuators become invisible. If we would register those things with exact x,y,z coordinates then you can see where they are using augmented reality glasses. Maybe there should be such a register and maybe an obligations to register things in public space to prevent BB situations. The register should be available through openc APIs. The Tools group came with the following statement regarding this subject:
"We should be able to physically or virtually touch a thing and then it reveals what it's doing (sensing, actuating) and where the data goes (where and how long is it stored, how is it used, how can I access that data)"
Important is also the notion that most capabilities evolve from a combination or group ("family") of things working together. Adam Greenfield: "A capability can sometimes only be established by a combination of things working together, e.g. poller + sensor + lamp + camera = access control system".
Unconference track over GEO en IoT
During the IoT conferences I attend I always notice there is a bit of a knowledge gap on the geospatial aspects of IoT. People are often not aware of geographical principes like geofences, possibilities of spatial queries and geodatabases. But location plays a major role in the IoT, in my vision it's actually an vital aspect (next to time and causality). From my geo background I always try to create awareness on geospatial principles (I consider myself a geo-evangelist ;-). That's why I gave a presentation in an unconference track on Geospatial aspects of IoT together with Christine Perey from OGC (a geo buddy :-). It was really nice to see that we could really give some new insights to the listeners on geospatial technology and standards (e.g. the OGC SWE standards), things like geofences en spatial queries, etcetera.
Sunday 17th june 2012
In the morning there were some keynotes and a panel discussion. Russell Davies had a cool presentation (e.g. with chrismas lighting on a house used as VU meters http://youtu.be/NI6-d8NOtc8).
In the afternoon we were working in groups on the Open IoT Bill of Rights (see also http://prezi.com/o_baykk9bc3-/internet-of-things-bill-of-rights). I attended the Core Framework discussion. Because of the many contexts, use cases and viewpoints it's really difficult to formulate an overarching Bill of Rights. Further there was no consensus whether it should be a Bill of Rights at all, or guidelines or a vision or something else; To Be Continued…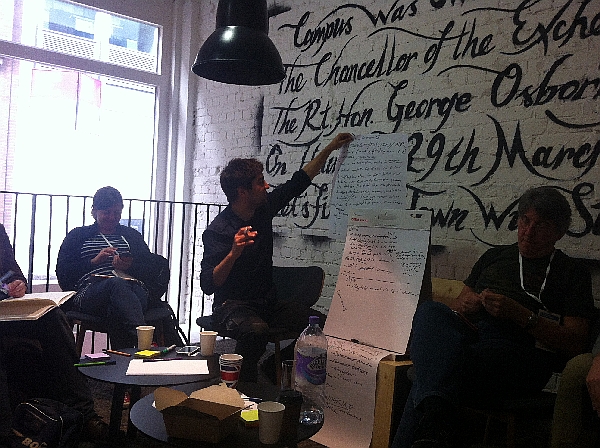 Project showcases
Sunday at the end of the day there was some time in the scedule for showing real Internet of Things things. A number of people presented their projects, see the examples below.
The Bubblino was my personal favorite, It makes bubbles when you send a tweet to @bubblino.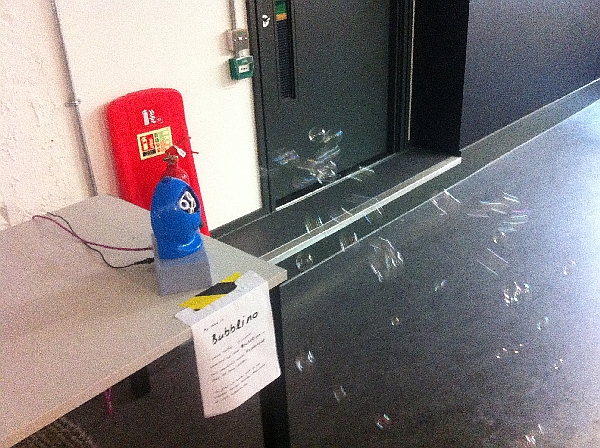 The Goodnightlamp is a family of interconnected lamps. When you switch on the large lamp, the smaller ones (which you can give to family and friends) also switch on as well, a really cool concept.
Conclusion
It was a very intense and extremely inspirering weekend. I had many interesting conversations, new ideas and viewpoints. It was nice to present something on geospatial technology and create awareness on this important aspect of IoT. More on this conference you can find on the Twitter feed #OpenIOT.